The Ledbury Hunt. (Herefordshire, UK.)



Cutting from The Times Weekly Edition, Illustrated Section, January 1920.

Some extracts from Elsie's 'hunting notebook';

17th October, 1924

First time I had jumped any fences or had a hunt for nearly two years. My second time out cubbing, and I have never enjoyed anything more for some time. First time I have taken any fences on Bubbles. She is the first hunter I have bought myself. I took the chair for the first time at the Women's Conservative meeting at Lowbands school [Near Redmarley, Gloucestershire.] during the evening which was most interesting. Altogether a thoroughly happy and interesting day. I must add that I had given up all hopes of hunting again, and it is wonderful to find I am able to do it and am more keen then I have ever been before. Ian was on a new hunter called Luchan, and he bucked and bucked till we all thought he must come off. Ian was ragged because he hadn't christened him Buchan!

7th November , 1924.

Ian's first day as Master. Our opening meet, and the thirteenth anniversary of our wedding day. We found in Colin Park [Upleadon]. I was badly left owing to my having to jog along slowly, and I was miles behind everyone on the way to the covert; so I had to do about 3 miles on the road altho' he only ran about a mile towards Newent [Gloucestershire] when he was given up.

Found again in Lumbury, ran several rings by Catesbury and Pheasantry, finally killing in Catesbury.

Bubbles was simply delightful. I love her, and she did everything perfectly. She went home as sound as a bell, and I am wretched to hear she is now dead lame. I only hope she will be sound again by next Friday. The Clives, 'Barbie' Wills and the Bulteels (Walter and Gertie) stayed with us, and we were a most cheery party. One of the happiest times I've ever spent. May all our anniversaries be just as happy. Ian gave me two lovely riding whips - one for each hand!!!

Elsie's husband, Major Ian Bullough was master of the Ledbury Hunt from 1922 to 1924, together with his half brother Sir George Bullough, and Lord Somers of Eastnor Castle (Ledbury, Herefordshire, UK.) In 1924 Sir George and Lord Somers retired as Masters and Ian Bullough carried on by himself until 1927.

Major & Mrs Bullough lived at Redmarley, in Drury Lane Farm. The Major maintained a large stud of horses and had many point-to-point winners, often riding them himself. The farm house, now renamed Drury Lane House, has recently been divided into four apartments. Sir George and Lady Bullough also lived in this charming Gloucestershire village, at The Down House.

As a child Lady Sibell Rowley and her sisters visited the Bulloughs at Drury Lane and she particularly recalls Elsie:
"She was awfully nice to us because we were only children. I do remember going up to her bedroom and watching her tying her stock for hunting. I also remember her bathroom, which was black marble!" She could not have been nicer to us, but she was very nervous. Ian Bullough was frightfully nice to us too. The Down House was going full fig then with Sir George Bullough and all the local shops were connected in some way with the hunt."



Major and Mrs Ian Bullough

Reports indicate that there was excellent sport throughout Major Bullough's time as Master. In 1926, at a meet from the Duke of York, hounds ran from the Quobs, through Berrow Wood to Blacklands, Down End to Corse Lawn, crossing the Severn at Chaceley to Tewkesbury Park where he went to ground. This was a run of one hour, 11 miles as hounds ran with an eight-mile point. During the five years of his mastership Major Bullough enjoyed great popularity and in 1927, when the cost of running the hunt forced his retirement, he was presented with a gold watch and a gold cigarette case. The presentation was made by Mr Yorke of Forthampton Court, who took over the Mastership.



Drury Lane House today. (Click photo to enlarge.)

There is a story locally that all the roads in Redmarley, Gloucestershire, are named after London Streets because Elsie was homesick. From what we read elsewhere, i.e. that she had no great liking for London, this gesture may perhaps have been rather counter-productive! [I have since learned that these names were given by a Mr Stokes, who was surveyor of turnpike roads in the area, and so does indeed pre-date Elsie's residence.]

Hunting in Ireland



Captain Ian Bullough.

"...Master of the Muskerry Hunt, County Cork, is Captain Ian Bullough, who is at present serving his country. Mrs. Bullough, formerly Miss Lily Elsie of 'Merry Widow' fame, is as keen a sportswoman as follows her husband's hounds..."

From "Vogue" magazine, 15 January 1915. The article that this illustrates is called "Following the Fox in Ireland" by Edith Oenone Somerville, M.F.H.. Bullough is only mentioned briefly toward the end of the piece and he is called "Captain." He must have been promoted to Major later in the war. (1914-18)

The article continues, "...Captain Ian Bullough, master of the Muskerry Foxhounds of County Cork, is, like many M.F.H.'s in Ireland, an Englishman. About three years ago he married the charming Miss Lily Elsie, of 'Merry Widow' fame; she has developed a great taste for horses and hounds since her marriage and hunts regularly with her husband's pack. Captain Bullough is at present serving his country..."



The Editor is very grateful to Mr Donald Haden MFH , a current joint Master of the Ledbury Hunt for providing information for this page. Lady Sibell Rowley quote taken from Hunting with the Ledbury, (Melanie Dawe. Ledbury Supporters Club. 1996.) with permission.



Cork Weekly Examiner
Saturday March 8th 1913
Muskerry Hunt Club
An interesting Presentation
Group showing Mr and Mrs Ian Bullough. On the table before them rests the illuminated album and gold-mounted whip presented by the farmers wives of the Muskerry hunting district. The Lord Mayor of Cork is standing to the left of Mr Bullough.
1) Mrs Bullough smiles her achknowledgments
2) Mr and Mrs Bullough after the presentation. The latter is holding the gold-mounted whip presented to her.


The Tatler - 17th January 1912
Mrs Bullough (Miss Lily Elsie) at her Irish Home
The above snapshot depicts Captain Ian Bullough, who recently married Miss Lily Elsie, the well-known actress, drinking the health of the Muskerry Foxhounds from a silver loving cup presented to him at his Irish seat, Oakgrove, co. Cork, by the members of the hunt. Captain Herrick, the honorary secretary of the hunt spoke of Captain Bullough's splendid work as master of the Muskerry. Mrs. Herrick, on behalf of the ladies of the hunt, presented a bouquet of lilies to Mrs Bullough, who will be noticed smiling at her husband as he raises the cup to his lips.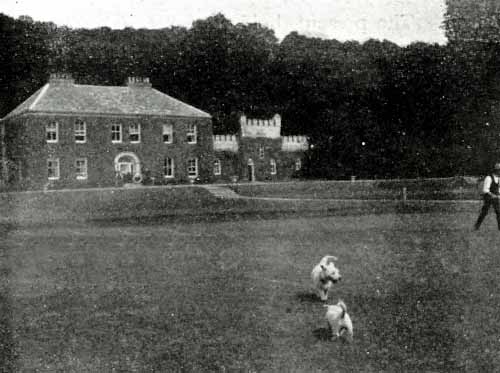 Oak Grove [original house] (Cork City Libraries)
Oakgrove, co. Cork The National Inventory of Architectural Heritage states that parts of the property were rebuilt c.1930 following the burning of the original house in June 1920. In the early 1940s the Irish Tourist Authority noted that it had been lived in by some years by a well-known actress, "Miss Lily Elsie" who was married to Major Ian Bullough. It is now known as Oakpark House.