Go to Ross to be sharpened!
Ross-on-Wye, population 10,089 (2001 census), is the principal employment and service delivery centre for South Herefordshire. This thriving market town serves as the hub for public transport provision for surrounding rural areas. Ross, known as the 'Gateway to the Wye Valley', has been a popular tourist destination for generations, being just outside of the Wye Valley area of outstanding natural beauty (AONB), on the northern edge of the Forest of Dean.
Ross is an old fashioned town; but it is very beautifully situated, and if there is little finery in the appearance of the inhabitants, there is also little of misery.
William Cobbett, Rural Rides, Vol.I, 1821
Photo Gallery.
Please click on the thumbnails to view larger images.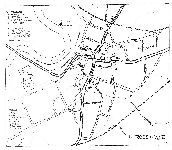 Street map of Ross-on-Wye in 1930s.


The town being proverbially healthy and pleasant, and, notwithstanding the exposure of some parts, very warm in winter, is a favourite place of residence.
Littlebury's Directory and Gazetteer of the County of Herefordshire, 1867



John Kyrle Summer House. Photo by R E Davies. Wye Studio, Ross.

King's Head Hotel, High Street.

Trees in the Church (St Mary's). Postmark 1938.

Alms Houses, Church Street. Jarrold and Sons Ltd., Norwich. (QE2 2d post)

Market House.

Market House.

Horse Shoe Bend. Postmark 1911. Published by H.C. Jefferies, late Powle's Library, High Street, Ross.

'Market Hall'. Postmark 1933. Photochrom Co. Ltd. London.

Market House.

The Plague Monument. Postmarked 1904.

Ye Olde Ferrie Inn, Symonds Yat. Postmarked 1946.

Ross-on-Wye Views.

The Roxy, Broad Street.

John Kyrle's House, High Street, and George Hotel.

The Horse Shoe bend from the Church Tower.

Whitchurch village.

Royal Hotel. (Norman May, Hereford)
Notice the petrol pumps behind the car. The area to the right of that through the arch, into what is now the courtyard for the hotel used to be a bus depot and the pumps were used to fill up the buses. There also used to be a bus stop there too. Thanks to Simon at TheVista for that information.

Linton Village. Postmark 1938.


During the past fortnight six persons died in Ross (five of them in the workhouse), whose united ages amounted to 491 years, exclusive of the odd months. With these the average age was nearly 83.
Ross Gazette, June 12th, 1890



The Yat Rock, Symonds Yat.

Symonds Yat, showing the Station.

Wilton Castle. A top quality lithograph published by The Ross Gazette Ltd.

The last train. Sunday 4th Jan 1959.

Brockhampton Court Hotel, more recently an old folks home

Gazebo Tower and River



The following six pictures were published under this cover

Wilton Castle.

Wilton bridge.

Sundial on Wilton bridge.



The following pictures date from about 1905.




TW Purchas and Sons. Wine and Spirit Merchants. 9th August 1902 (Edward's coronation). Now King Charles II Public House.

Lewis's Grocers. Wine, Spirit, and Ale Bottlers. Remember Lewis's celebrated Stone Ginger Beer?

AJ Stephens, Dairy and Tea Rooms. Deliveries twice daily! Now Molly Mays (Dolls House Shop) or Truffles Deli

George Eltome. Hosier, Gover, Hatter and shirt maker. Now Mervyn James.

HJ Andrews. Tailer and Hatter. Clerical tailer and breeches maker. Now Nationwide Building Society.

J Benjamin. Cash Chemist. Only recently closed (~2007) and now Phones 4 U

T Matthews. Dispensing and family Chemist. Photographic apparatus and Chemicals of every description. Now KLB.

Blake Bros. Manufacturing ironmongers, brass and ironfounders Hydraulic and sanitary engineers. Now General Tool Store.

JM Taynton. Fruitier, Florist, and Greengrocer. Now Orange mobile phones.

DE Smith. Baker, pastrycook and confectioner. Now Seven Seas Fish Bar.

H Dowell and Son. Launch and Boat Builders. Tours of the Wye - two man boat to Symond's Yat station 18s (=90p).
Owing to the situation of the Town, which is upon a rock, there are very few pumps, and it is principally supplied with water by an engine, which, by means of pipes, furnishes every house with an abundant quantity, at a reasonable rate. There are also plugs in the street, in case of fire.
T.B.Watkins, the Ross Guide, 1827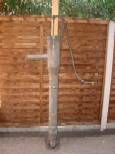 Is this the Millpond Street pump?



We purchased (March 2004) this water pump at an internet auction. The vendor indicated that it was originally used to supply a horse trough in Millpond Street, lifting water from Rudhall brook. It was dated 1860. The pump is made from riveted sections of galvanised iron. We are told it was originally mounted in a wooden case. The makers name plate reads, Smith & Watson Ltd. Ironmongery Stores. Ross. With the traditional Ross hedgehog logo.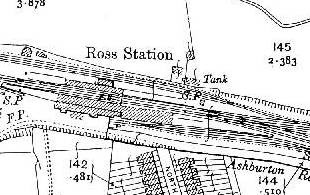 Detail of Ross Station 1903.





Alton Court Brewery.

GWR 2286 with freight wagons in Ross Station, Lydbrook Branch. 13th August 1964.

0-4-2T No.1455 enters Ross. C1957.

View towards Gloucester Road.

View from Little Wood. 1908 Click here for more details.

Back of Little Wood card. Click here for more details.

Who stole the Boat House?

1946

The Hall, Chase Hotel.

"No cars to park here" Postmark Dec 1949.

Letter sent from US Army field hospital to 'St. Mary's Canteen' on March 21st 1944. This may have been in the churchyard, where the National School was?

The Wye Hotel, near Ross-on-Wye. (Now The Leadership Trust, Weston-under-Penyard)

Ross on Wye from the 'Town Hall'. No postmark

ACBC [Alton Court Brewery Company] Aerated Waters Ross

Old Market House, Newent, 1668. Postmarked 24 Dec 1908. CM Bisco, Stationer, The Library, Newent.

Ballingham [Hfd] to Ross on Wye, 3rd Class, 9d. Feb 1959

Gloucester Road

Broad Street

Chase Hotel

Chase Hotel

Valley Hotel, and Swan Garage c.1960?

Wyastone Leys
This postcard is marked 17th July 1906 on the front and 'Mr Bannermans's House', on the back. Could that be Henry Campbell-Bannerman, Prime Minister (1905-1908)?

Wye Street

New Street

Gloucester Road

The petrol pump mystery is resolved!

Broad Street

Cattle Market 1906 Cawdor?

Kyrle Picture Palace

Swan Garage Tours 1951

Towards Wilton from The Prospect in 1929

Lea Castle [Wolverley, Worcs]


This postcard is dated 19-8-02. Many thanks for your charming card; a friend of mine is commencing to collect p.c.s would you correspond with her? Her address is:- Miss Roof, Hardwick House, Ks Lynn. Yours sincerely A. Green
Raphael Tuck & Sons "County" Postcard No. 2254 "HEREFORDSHIRE" Phototyped in Berlin. Postmarked Kings Lynn Aug 19 1902, posted to an address in France (For 1d!)

Built in 1762 and demolished in 1945. Was this ever in Herefordshire? Either a mistake or boundry change


John Kyrle Gateway

Early Photographs

Click here for early photographs of Herefordshire.